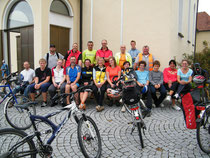 We are leaving Ziemetshausen about 9 o'clock direction Memmingen. 19 bikers accompanied me the first 56 km to Memmingen. Our photo was taken at the church of pilgrimage at Baumgärtle. The bikers are:
Back row from left: Sven, Walter, Raimund, Lutz, Anton, David, Josef
Front from left: Lorenz, Gero, Iris Wolfgang, Rosi, Toni, Vera, Johanna, Bernhard, Wolfgang, Manuela, Dorota
I'm thanking:
·         Priest Thoma and Pater Benoy for the travel blessing
·         Bakery Bosch for the brilliant catering
·         Voluntary Fire Brigade Ziemetshausen for the escort to Balzhausen
·         Josef Schalk for the escort by car and the bringing back a couple of the bikers
·         Mayor Anton Birle that he came with us by bike to Memmingen, unfortunately he had to go back at once because of other dates
About four hours later we arrived at Memmingen. We had lunch at the inn "Zum Schwanen". At about 3 p.m. ended the meeting. A few (Manuela, Toni, Vera, Iris and both Wolfgangs) took the bike for getting home, the others took the escort car or the train.
You can see more photos at the gallery.